Over the long holiday weekend, I had a chance to watch a few films, so here is...
Elisa's Holiday Weekend Movie Marathon - Mini-Reviews
An Affair to Remember
(1957) - Ever since I saw the terrible Meg Ryan film,
You've Got Mail
, I had heard of
Affair
and how romantic it was, but I always balked at watching it, since I thought it would be stupid and sappy. Not so at all! Cary Grant portrays dashing playboy Nickie Ferrante, who meets Terry McKay (Deborah Kerr) on a cruise and after some adorable, harmless flirting, they realize that they're falling in love with each other. The only catch? Both of them are betrothed to other people. Not being a profitable playboy, Nickie wants to be a good husband to Terry and asks her to give him six months to get his act together and make some money for them to live on before they get married. They agree to meet at the top of the Empire State Building on July 1st (Canada Day!) and then spend the rest of their lives together. This seemingly charming tale has some very sad and heartwrenching twists that make you really feel for all the characters involved. I loved it, and would recommend it to anyone – cynical like myself about love or otherwise – as an absolutely heartwarming piece on "real" love…even though the ending
is
a tiny bit cheesy. Grant and Kerr were fantastic and Cathleen Nesbitt as Nickie's wise and feisty grandma stole every scene she was in. Great stuff.
(500) Days of Summer
(2009) – This is hands down, one of the most accurate and realistic portrayals of love that I've seen in modern cinema. Joseph Gordon-Levitt plays Tom Hansen, a greeting card writer who falls madly in love at first sight with Summer Finn (the adorable and charming Zooey Deschanel). What ensues is a retrospective of their sometimes rocky, sometimes gooey, sometimes ordinary relationship that provides a glimpse into realistic couplehood, and what can happen when two people fall in (and out) of love. As the narrator mentions at the beginning of the movie, this is
not
a love story, but it
is
a love letter to Los Angeles, as the city influences the characters' lives and relationships. Couple the great writing with a fantastic soundtrack (loads of Smiths!), and a really fun turn by
's "skinny actor dude," Matthew Gray Gubler as Tom's slightly clueless, married best friend and you have a solid, very watchable, little indie. Highly recommended.





Buddy (2004) - This was a random OnDemand free movie pick that sounded okay from the description, but turned out to be utterly charming! The aptly-titled, award-winning film from Norway follows the lives of three young friends, their rise to reality stardom, and their triumphs and pitfalls along the way. It's done with such a light touch that although the piece is somewhat fluffy, it's not a throwaway film. One of the characters is obsessive-compulsive, and instead of being made the butt of jokes, he is given great pathos and a wonderful story arc which is both inspiring and sweet. If you want to feel good for 90 minutes, watch this. Absolutely adorable, with a great cast of young actors.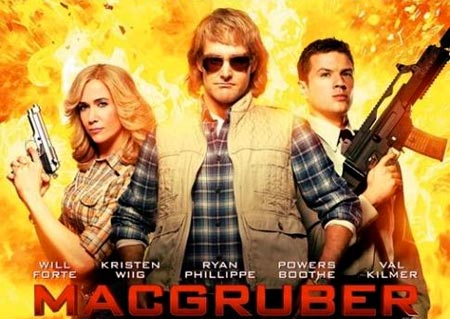 MacGruber (2010) - I adore Will Forte. I adore the character he does (did?) on SNL who is a parody of my beloved MacGuyver. I adore Kristen Wiig with an almost lesbian passion. But sadly, this film was so awful, I couldn't even finish watching it. Every joke was done for the crass, toilet crowd and it didn't feel at all "true" to the spirit of the recurring character of late-night comedy. I was so disappointed, especially since I had a shred of hope that it might be at least half-decently watchable and I was excited to finally see it. Avoid at all costs, unless you like to waste your time.





Funny Girl (1968) - Barbra Streisand's starmaking role in the story of famed comedienne, Fanny Brice. This was really fun, with great songs, and Barbra was amazing as Fanny, but what moron cast Omar Sharif as her cardshark husband Nick Arnstein?! He was totally hot and charming, but totally wrong for the role! Ah well. A solid, inspiring film featuring one of my favorite (if not my very favorite) Barbra hit, "Don't Rain on My Parade." Pretty much my theme song these days. :) Wish my mom were supportive like Fanny's when I was young. Would've saved me years in therapy.


So, there's my marathon from last weekend. Most of the movies I watched were really good, with only one real stinker in the bunch. Hope you enjoyed!


And check out my previous mini-reviews here:

Horror Movie Marathon #1

Horror Movie Marathon #2

Horror Movie Marathon #3

Movie Marathon #4